---
Introducing CAROLINA QUILTWORKS (carolinaquiltworks.com) THE COUNTRY QUILTERIE'S ONLINE STORE, WITH QUICK & EASY ORDER PROCESSING. USE YOUR MASTER CARD, VISA, DISCOVER, AMERICAN EXPRESS OR PAYPAL. FREE SHIPPING ON ORDERS OVER $100 AND FREE SHIPPING ON ALL PATTERNS. CLICK STORE IMAGE BELOW AND START SHOPPING!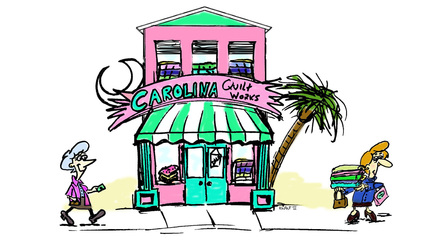 SHOP
OUR ONLINE STORE carolinaquiltworks.com Carolina Quiltworks is the quilt diva's paradise, where you can shop 24/7 in the comfort of your own home for fabrics from your favorite designers and manufacturers: Andover, Benartex, Blue Hill, Blank Textiles, Classic Cottons, Clothworks, Cranston Village/VIP, David Textiles, Elizabeth's Studio, Fabric Traditions, Fabri-Quilt, Henry Glass, Hoffman, Indo-US Sales, Robert Kaufman, Kona Bay, Lakehouse, Marcus Brothers, Maywood Studios, Michael Miller, Northcott, P&B Textiles, Quilting Treasures, RJR Fabrics, South Seas, Springs, Quilting Treasures, Timeless Treasures, Windham. and many more!CLICK THE IMAGE ABOVE, OR GO TO - http://www.carolinaquiltworks.com/ - to get to our online store. THIS NEW WEBSITE OPENED ON FEBRUARY 25TH, 2015. WE ARE WORKING AS FAST AS WE CAN TO LOAD OUR 4,000 FABRICS. PLUS PATTERNS, PRE-CUTS AND HANDCRAFTED, MADE ON THE PREMISES QUILTS ONTO THE SITE. CHECK BACK OFTEN AS WE WILL BE ADDING MORE, EVERY DAY!NOTE: carolinaquiltworks.com has a brand new look, including many new features, fast and easy checkout, low cost shipping and a fabulous collection of the latest fabrics, plus a new pattern section and offering pre-cuts, jelly rolls and more. We will also be offering our own brand of hand-crafted quilts, made by our own quilters, using our beautiful first quality, 100% cotton fabrics., plus quilted home and fashion accessories. You will enjoy quick and easy order processing, using Visa, MasterCard, Discover, American Express or PayPal. FREE SHIPPING ON ALL PATTERNS, AND FREE SHIPPING ON ALL ORDERS OVER $100.00

Browse through every category of first quality, 100% cotton fabrics, including (but not limited to), coastal, southwest, wine country, sports, hobbies and professions, trains, planes, automobiles, trucks, motorcycles, RV's and boats, military, patriotic and americana, bugs, birds, butterflies, fish, dogs, cats, horses and wildlife, ethnic, holiday and seasonal, reproduction, nostalgia and out-of-print fabrics, baby and juvenile, batiks, blenders, flannels, landscape, florals, food, fun, novelty and whimsical fabrics, plus 110" quilt backs in cotton and flannel, and all at discount prices!

CAROLINA QUILTWORKS is the Quilt Diva's Virtual Fabric Paradise!
---
CAROLINA QUILTWORKS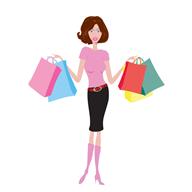 WE HAVE THOUSANDS OF FABRICS TO ADD TO THIS SITE.

PLEASE CHECK BACK OFTEN, TO SEE WHAT'S NEW.

NEED SOMETHING IN A HURRY? CALL US AT (570) 620-9707.

WE ALSO HAVE A HUGE SELECTION OF BOOKS, PATTERNS & NOTIONS.

WE CARRY STENCILS, BATTING, WIDEBACKS AND MUCH MORE.

CUSTOM MADE PLACEMATS, TABLERUNNERS, THROWS , BABY TO KING SIZE QUILTS, WALL HANGINGS, PANELS AND FUSE BOX COVERS ARE AVAILABLE IN YOUR CHOICE OF FABRICS. CALL 570-620-9707 OR EMAIL FOR DETAILS.

GIFT CERTIFICATES ARE ALWAYS AVAILABLE.

WE ALSO HAVE A LARGE SELECTION OF HARD TO FIND & OUT OF PRINT FABRICS. EMAIL OR CALL WITH YOUR REQUESTS.

THANKS SO MUCH FOR VISITING. PLEASE COME BACK SOON.




---