About Country Quilterie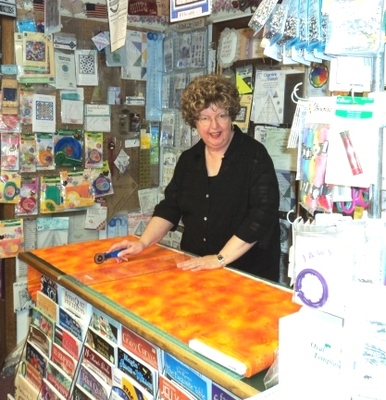 MaryAnn Kwant at her cutting table helping a customer!
Thank you for visiting Country Quilterie your one-stop shop for all your fabric and quilting needs.

My name is MaryAnn Kwant and I opened the Country Quilterie in 1989. I have been a "fabricaholic" for as long as I can remember, which is obvious the moment you walk into my quilt shop and see our huge selection of the most beautiful quilting fabrics, in every category imaginable, plus books and patterns galore, a huge selection of quilting templates and stencils, batting, thread and notions, quilt signs, quilt holders, even quilters' license plate frames, totes and perpetual calendars!

We are a small, family-run business. My husband, Art, a retired business executive, and my grandsons, Nicky and Joey, all help out in the store, and all share my love of fabric and quilting. My son, Kris, in addition to his own career in the business world, and his hobby of micro-brewing, designs our graphics and solves all of our technical and computer problems.

Our unique, country location is like a touch of Williamsburg in the beautiful Pocono Mountains of Pennsylvania. Quaint shoppes and eateries, a creekside deck, picnic tables, and photo spots, all invite you to come and sit a spell and enjoy the natural beauty of the setting, while your shopping experience will thrill the senses of every Fabric Diva!
---

You can't help but smile when you enter our store, and that will also earn you an extra nice person discount on all your purchases at The Country Quilterie.

OUR CUSTOMERS ARE VERY IMPORTANT TO US and we make sure that you feel special when you come to see us. We promise to give you the best value and the best service at the best price. Your complete satisfaction is our top priority at The Country Quilterie.

We also offer beautifully hand-quilted quilts and quilted accessories at discount prices, custom quilts from your choice of fabrics, quilting classes in our Quilting School, and a long-arm quilting service for finishing your quilt tops.


We look forward to seeing you, and we thank you for your business! We really appreciate it!

MaryAnn Kwant, Owner
The Country Quilterie and Carolina Quiltworks
Welcome to our Slide Show!
We want to share some photos with you of The Country Quilterie, inside and out! Hope you enjoy and thank you for visiting!


---
Payment Accepted

tCountry Quilterie accepts all major credit cards (Visa, MasterCard, Discover, and American Express) and all debit cards. Sorry, we do not accept personal checks.
---
---
How to Contact The Country Quilterie
In Person - Our address is 2783 Route 115, Effort, PA 18330. See our Hours & Directions section of this website for directions.

By Phone - 570-620-9707

By Email -
cqfabrics@gmail.com
---
Shop Online at The Carolina Quiltworks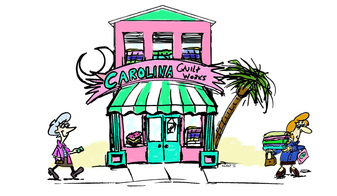 If you can't visit the Country Quilterie in person, you can now purchase our fabrics online from the comfort of your home by visiting our virtual fabric store, www.carolinaquiltworks.com. You'll get the same great selection, quality, and discount prices, 24/7, from our secure website. Like The Country Quilterie, The Carolina Quiltworks has thousands of the latest first quality, 100% cotton quilting fabrics by the leading designers and manufacturers.
PLEASE NOTE:
carolinaquiltworks.com a division of the Country Quilterie, is A NEW, EXPANDED WEBSITE, WITH ALL THE NEWEST FABRICS, PATTERNS, JELLY ROLLS, PRE-CUTS AND HAND-CRAFTED QUILTS, MADE ON OUR PREMISES, BY OUR OWN QUILTERS. WE OFFER SAFE AND SECURE ORDER PROCESSING, USING VISA, MC, DISCOVER, AMERICAN EXPRESS OR PAYPAL, FAST AND EASY CHECKOUT AND LOW COST SHIPPING, INCLUDING FREE SHIPPING ON ORDERS OVER $100 AND FREE SHIPPING ON ALL PATTERNS. WE ARE CONSTANTLY ADDING NEW FABRICS TO THIS WEBSITE, SO PLEASE CHECK BACK, OFTEN! THANK YOU AND WE APPRECIATE YOUR BUSINESS.
---
---